Established in 2006, Axiom Cutler Salon was founded with a goal to provide Midtown Atlanta with the best quality haircut, at a great price. Year after year, our talented team of barbers and stylists consistently deliver the best haircut value in Midtown Atlanta.
Axiom settled into our current location in 2011. Our prime location is in the Midtown Promenade, adjacent to Piedmont Park with direct access to the beltline. We are located in the courtyard, above Midtown Art Cinema. The open loft style of the space allows our team to be inspired by the energy of the Midtown neighborhood around us. We are dedicated to our craft and committed to maintaining a friendly, relaxed atmosphere.
Axiom has received dozens of awards and numerous press praises for the quality of our work. Creative Loafing has named Axiom "Best Haircut " twice. They praised our friendly, uncomplicated, professional atmosphere, and boldly claimed "Axiom is the best Bang for the Buck." We agree and invite you to come see for yourself.
Our Team: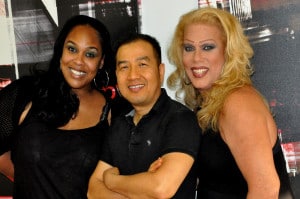 Ayeshah (Owner) – learn more…
Kely – learn more…
David – learn more…
Neka – learn more…
Bernadette – learn more…