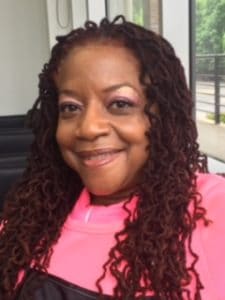 Bernadette is a Connecticut native, who has been in the salon industry for over 30 years. A graduate of John Patterson technical college in Montgomery Alabama, she is a multi state license holder.
Bernadette has traveled extensively with her military husband, which provided her the opportunity to travel and work in salons across the US. Bernadette has stated that the best part of her travels was getting to know each and every client on a personal level and developing life long friendships.
She takes her craft extremely serious; a fact you will become aware of the moment you sit in her chair, as she will make it her mission to provide the best service you have ever experienced. You'll always find her with a smile and a kind word, because she Believes you should treat others as you want to be treated.